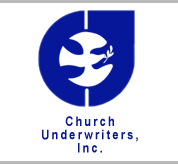 Home
About Us
Email Us
Site Map
Links
Become An Agent
Agent Information
Service Team
FAQ for Agents
Newsletter Signup
Application Forms
Newsletters
Insure Your Non-Profit
Insure Your School
Insure Your Church
Church Information
Coverage
Denominational
Programs

State Eligibility

Coverage is available in 44 states.

Church Underwriters, Inc.

(800) 869-8904
(651) 771-3850
(651) 771-3551 - fax

342 East County Road D
St. Paul, MN 55117

About Church Underwriters
It's How Church Insurance Is Supposed To Be - Easy, Affordable & Comprehensive
Church Underwriters, Inc. was started in 1981 to provide comprehensive, low cost insurance to churches and synagogues throughout the United States. Since our inception we have only offered our unique package policies through your local home town agent.
You receive a comprehensive policy underwritten by a major insurance company and the quality service that only a local agent can provide. Our Church Underwriter's staff hopes that you will give us the opportunity to provide your church or synagogue with an insurance proposal through the local agent of your choice.
If your church does not have an insurance agent to work with phone or e-mail us to recommend an insurance agent in your area.